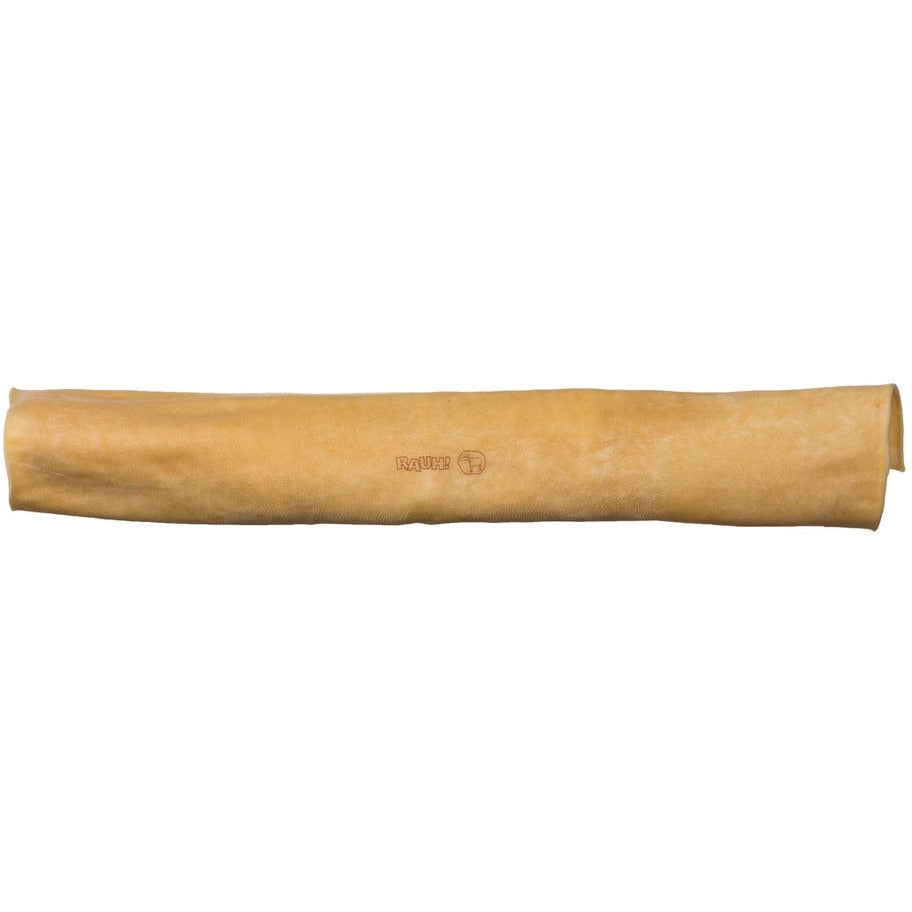 ROUGH! Chewing bone Moose 40 cm
Tuggben
Description

Nordic chew bone from MOOSE also for allergic dogs. Lasts a very long time. Made from elk hide and dried according to traditional methods without additives.
Size guide

Vikt: ca 300 g Längd: ca 400 mm Bredd: ca 60 mm Tjocklek: ca 40 mm
Ingredients

Råprotein 87.7 % Råfett 2.1 % Fukt 6.2 %
Specifications

RAUH! produkterna är till 100 % ett nordiskt hantverk
Bakteriologiskt rent
Avlägsnar tandsten och förebygger tandköttsinflammation
Ett smakligt och delikat tidsfördriv för hunden.
Lätt och med låg energihalt
Älg 40 is the flagship of the entire product range. This is our largest elk chewing bone which also lasts the longest. The big gaps are literally crying out for this product! The chew bones, which are made of elk hide, are very durable and tasty. To make them, the entire moose skin is used, including the best part of the skin, i.e. the grain skin. In this way, we can offer your dog a unique, highly sustainable and allergy-free enjoyment of a genuine natural product. In the manufacture of the chewing bones, we only use the part of the skin that has the best quality, no residues from the trimming or other so-called residual products. These so-called residual products are handed over to the waste facility and used to produce organic fertilizer for the fields.RAUH! the chewing bones are made as handicrafts in Finland and only from raw materials that maintain excellent quality. From the very beginning, their manufacturing methods have been designed solely for the production of chew bones and other dog treats for the benefit of your pet! ROUGH! the chewing bones are always made from just one piece of leather and dried in the traditional way EVER SINCE 1989!- RAUH! the products are 100% a Nordic craft.- Bacteriologically clean.- Researched and safe.- Removes tartar and prevents gingivitis.- A tasty and delicate pastime for the dog.- Slightly low energy content. The genuine and original product with the Finnish quality designation Key flag! Remember to supervise your dog when he chews on chew bones and to make sure he always has access to fresh water. Store dry at room temperature. From where? To whom? Did you know? Nutrient: Crude protein 87.7% Crude fat 2.1% Moisture 6.2% Weight: approx. 300 gLength: approx. 400 mmWidth: approx. 60 mmThickness: approx. 40 mm
Product reviews on Trustpilot
What do other customers think?