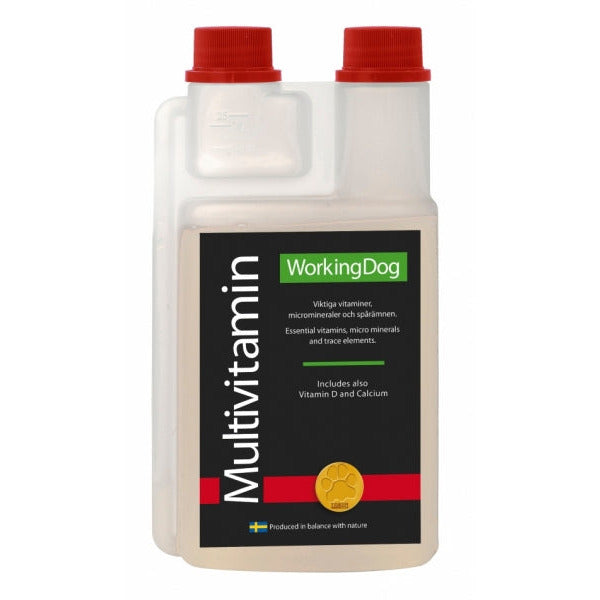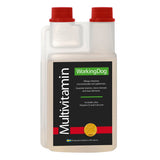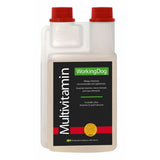 Trikem WorkingDog MultiVitamin, Dietary supplement for dogs
Kosttillskott
Description

Trikem WorkingDog Multivitamin provides a wide spectrum of vitamins, microminerals and trace elements. Suitable supplement both for growing and older dogs or generally as a supplement when feeding with fresh feed own feed menu etc.
Ingredients
Well-balanced with 20 substances that are often insufficient in feed during hard work, tough conditions, poor intestinal medication, etc. Modern feeding gives the dog a one-sided diet with limited nutrition based on calculated guideline values. In case of deviations based on individual needs or deficiencies, the dog has no opportunity to compensate itself in the way it would in a wild state. Trikem WorkingDog Multivitamin supplements 20 important nutrients when the usual feed does not meet your dog's current needs. DOSERING5 ml per 10 kg kroppsvikt dagligen i samband med utfodring eller enligt veterinärs föreskrift.INNEHÅLL per 5 ml:Vitamin AVitamin DVitamin EVitamin B1Vitamin B2Vitamin B6Vitamin B12Vitamin CFolinsyraNiacinPantothensyraBiotinKopparJärnManganSelenKolinZinkJodBor27051351352701352713520270675271352254013513524527270 mcgmcgmgmcgmcgmcgmcgmgmcgmcgmcgmcgmcgmgmcgmcgmgmgmcgmcgHÅLLBARHET24 mån. See best before date. STORAGE chosen dark and well sealed. Registered with the Swedish Agency for Agriculture. All WorkingDog products are withdrawal-free provided they are not used to hide injury or mental problems in the dog.
Product reviews on Trustpilot
What do other customers think?