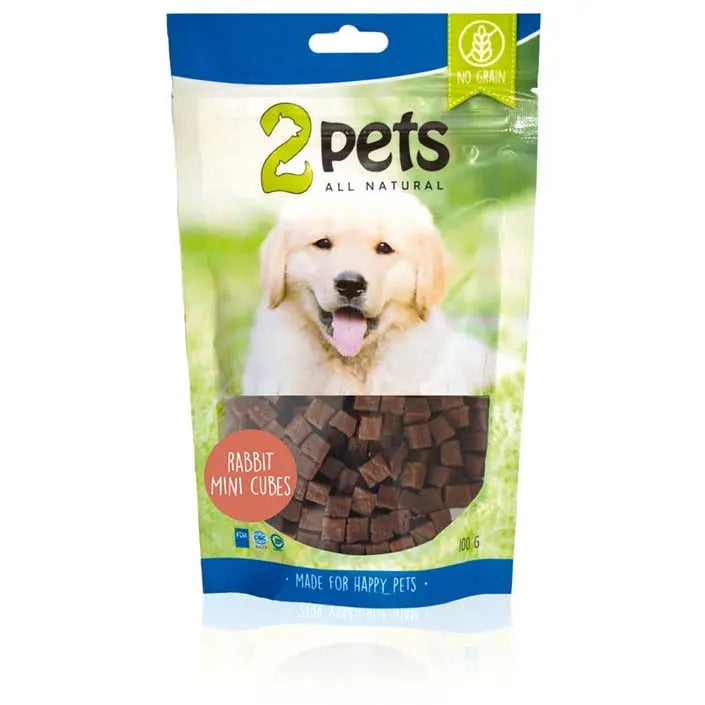 2pets Dog Snack - Rabbit Mini Cubes
Hundgodis
Description
Small cubes of rabbit-flavored dog treats. Natural and tasty with a high meat content made from low-fat ingredients. These cubes called MiniCubes are smaller than the ones just called Cubes from 2Pets.
Ingredients
Composition: Rabbit 89.8%, corn starch, 3% glycerin 3%, sorbitol 2%, vegetable protein 2%, salt 0.2%.
Analytical constituents: Crude protein 28%, water 23%, crude fat 5%, crude ash 5%, fibers 0.2%.
Very small reward pieces with the taste of rabbit that are perfect for dog training. Especially suitable for small dogs, but works well for all sizes of dog. A complementary food for dogs and should be given as a reward alongside a balanced diet. Always make sure the dog has free access to fresh water. All candy/chews from 2pets are an approved and safe food within the EU (HACCP) and the USA (FDA). The factory is also ISO 22000 certified, which means that traceability is secured throughout the production chain.
Product reviews on Trustpilot
What do our customers think?