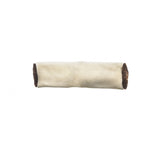 Tuggben
Description

Chewing bones made of cowhide with a filling of delicious beef steak. Slightly flatter shape, which makes it easier to start chewing on.
Size guide

Vikt ca 90 g Längd ca 210 mm Bredd ca 50 mm Tjocklek ca 15 mm
Ingredients

Tuggben: Råprotein 87.2% Råfett 1.6% Fukt 6.2%
Biff: Råprotein 58.1% Råfett 32.8% Fukt 2.6%
Specifications

RAUH! produkterna är till 100 % ett nordiskt hantverk
Bakteriologiskt rent
Avlägsnar tandsten och förebygger tandköttsinflammation
Ett smakligt och delikat tidsfördriv för hunden.
Lätt och med låg energihalt
Big Beef Toast is especially intended for small and medium-sized dogs. The flat shape facilitates the beginning of chewing. Does your morning start without crispy Toast? Dried in the traditional way from cowhide and beef.RAUH! the chewing bones are made as handicrafts in Finland and only from raw materials that maintain excellent quality. From the very beginning, their manufacturing methods have been designed solely for the production of chew bones and other dog treats for the benefit of your pet! RAUH!- the chewing bones are always made from just one piece of leather and dried in the traditional way EVER SINCE 1989!- RAUH! the products are 100% a Nordic craft.- Bacteriologically clean.- Researched and safe.- Removes tartar and prevents gingivitis.- A tasty and delicate pastime for the dog.- Slightly low energy content. The genuine and original product with the Finnish quality designation Key flag! !Remember to supervise your dog when he chews on the chew bone and to ensure that he always has access to fresh water. Store dry at room temperature. Nutrient Chew bone: Crude protein 87.2% Crude fat 1.6% Moisture 6.2% Beef: Crude protein 58.1% Crude fat 32.8 % Moisture 2.6% Weight approx. 90 g Length approx. 210 mm Width approx. 50 mm Thickness approx. 15 mm
Product reviews on Trustpilot
What do other customers think?