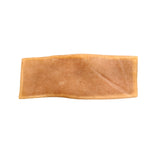 Kerotugg Chips Moose Swedish 15 x 5 cm
Tuggben
Description

Chewing chips made of dried moose skin are suitable for small and medium-sized dogs. Sustainable moose chips from our Norrbothnian forests 15 x 5 cm.
Details

Approx. 15 x 5 cm, thickness 2-5 mm. Weight 20-50 g.
Ingredients
Specifications

Chewable pieces of dried rawhide from moose.
No additives, no bleach, no glue or other strange things.
Natural taste of moose that the dogs love.
Length 15x5cm.
Chips of dried Swedish moose skin.
Product reviews on Trustpilot
What do other customers think?